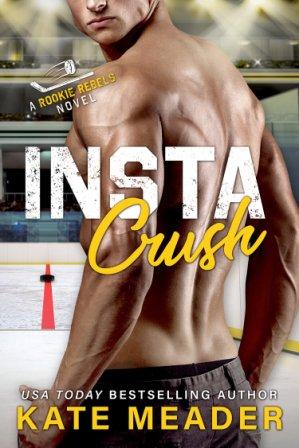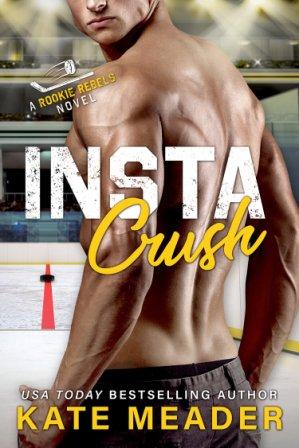 When Theo Kershaw meets Elle Butler she will test his strength both off and on the ice. There is nothing more fun than a hot cocky hockey player who wants the one thing he can't seem to have.

Trust, hope, and the ability to determine truth from fiction will challenge Theo and test Elle. Family secrets will attempt to derail their budding relationship.

Kate writes a world that's fun, exciting, and with a sexy team like the rebels, guaranteed to have a happy ever after that sizzles. Full on charm, witty dialogue, lots of tension and added surprises for an exiting story with lots of heat!

Caution, this Scorchin read may lead to unexpected need to turn on the A/C. I received an ARC from XPresso Book Tours for a fair and honest review.

Grab your holiday gift cards and one-click today. If you love sports romance and hockey don't miss this adventure. It's always exciting when the Rookie Rebels are in town and this is definitely worth the read ;).
Goodreads / Amazon / Barnes & Noble / iBooks / Kobo / Google Play
EXCERPT:
"Yes, I've seen those billboards for your underwear."
"Fender bender when you did, right?"
"Oh, I have epic self-control. But seeing them made me realize that you're a bit too pretty. I kind of like 'em rougher." She placed a finger under his chin and tilted it for inspection. "You ever get into a fight? And I don't mean those phony ballets you perform on the ice for your fan base."
"I'm more a lover than a fighter."
She scoffed, reluctantly withdrawing her touch. "Thought as much. Wouldn't want to risk getting that perfect nose broken."
He didn't take offense. She wondered what in the world would ever bother The Theo Kershaw.
"So we've established I'm not manly enough for you. Any other comments?"
"Oh, I'd never be one to criticize."
He waved a hand. "Help me out, Elle-oh-Elle. Give me some pointers on how to win a real woman such as yourself."
She thought about it for a moment, her blood fizzing with the fun of sparring with him. "You'd need to be a completely different person. But don't fret, your current vapid personality is probably cleaning up so don't change a thing, 'kay?"
He didn't look put out, probably because her jab carried no heat. They both knew she wouldn't be talking to him like this if she really believed he was dumb and vain.
"Yeah, good thing I'm doing okay. It's just you're here and I'm here …" The implication being that only proximity would force him to lower his standards.
She patted his chest and suppressed a groan at how hard it felt under her fingertips. "I know you can't help yourself. You've got a penis that seeks out the nearest vagina like a diving rod. It's really not your fault."
"True. I can't be held accountable for my incorrigible flirting."
He grinned and she grinned back, and that fizz in her veins bubbled bright. He'd figured out her game, matched her quip for quip. They understood each other and now they were … friends?
How odd.
And surprisingly sweet.
Theo Kershaw was smarter than he looked. Confusion must have registered on her face because he seemed to be closer, more present. A rush of awareness overtook her, not just of him, but of them and the sparking connection being formed in this sizzling moment, more powerful than mere sexual attraction.


Author Bio:

Originally from Ireland, USA Today bestselling author Kate Meader cut her romance reader teeth on Maeve Binchy and Jilly Cooper novels, with some Harlequins thrown in for variety. Give her tales about brooding mill owners, oversexed equestrians, and men who can rock an apron, a fire hose, or a hockey stick, and she's there. Now based in Chicago, she writes sexy contemporary romance with alpha heroes and strong heroines who can match their men quip for quip.

Website / Goodreads / Facebook / Twitter / Instagram / Bookbub / Amazon